Practical Pools Service Guarantee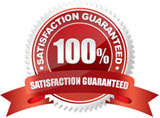 Our pool service program includes chemical rebalancing, equipment checks, and pool cleaning. We guarantee our workmanship on the cleaning of your swimming pool and work hard to ensure our customers approval.
We make sure that your satisfied with you're pool service and guarantee that if there is ever a problem we will re-adjust or re-clean your pool for free.
Pool Water Balance Guarantee - We guarantee that all of our full service and chemical only service customers water chemicals will be balanced correctly each week. If you find that your pools chemicals are incorrect or balanced incorrectly we will rebalance your pool at no additional cost.
Pool Cleaning Guarantee - We guarantee that your pool will be clean and free of dirt or surface debris when we leave your pool each week. If there are ever any issues we will correct them promptly within 1 business day.