Cleaning Services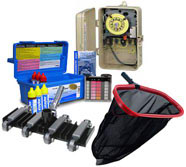 Balancing Water Chemistry - Pool water chemistry is a vital part of every swimming pool. This is why we monitor water chemistry each week on our full service plan to ensure safe and proper chemical levels are present.
Netting Pool Debris - Each week as part of the full service plan we will net any debris on or below the surface of the pool water to keep your pool swim ready and running efficiently.
Vacuuming Pool - We monitor any build up of dirt or sand and vacuum pools on an as needed basis. This can break down to around 2-3 times per month depending on various factors such as having an enclosed or unenclosed pool.
Brushing Pool Walls & Floor - Pool walls and floor are brushed weekly when needed to help push sand or light debris towards the main drain of your pool. This lets the filtration system work as it was designed to and keeps your pool looking great all year long!
Filter Replacement - Filters are monitored throughout the year to ensure they are working as they should. We replace pool filters throughout the year when needed. We always notify our customers when a replacement is needed and can do the installation during one of our regular weekly visits.